WOLF WAR
Book 3 of the LYCANTHROPIC series
The war between humans and werewolves has begun.
The days of Homo sapiens are coming to an end. A new power is rising: Homo lupinus, the wolf man.
Leanna, the self-styled queen of the werewolves, marshals her forces ready for a great battle, gathering her soldiers into an iron fist.
The army strikes back, unleashing the devastating power of twenty-first century warfare.
But werewolves are not the only enemy. Wherever humans go, evil walks with them.
In the struggle for survival, strange alliances will be forged. The strong and the brave, the foolish and the wicked: all will play their part before the battle for London is over.
Buy the book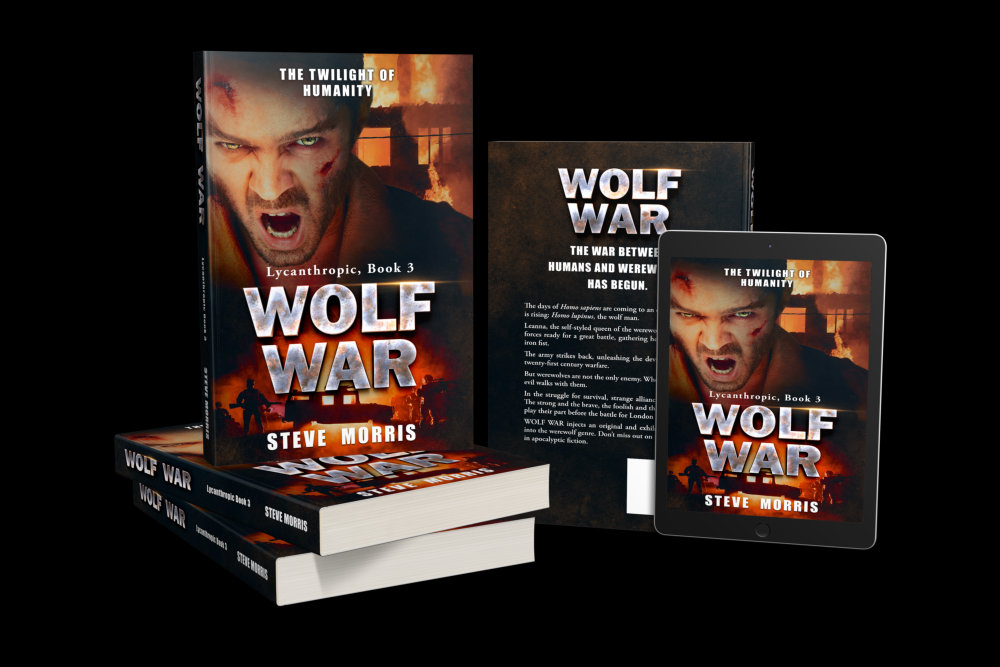 REVIEWS
This is book three in the Lycanthropic series, and I couldn't be more thrilled. As the story progresses it just keeps getting better!
★★★★★
Amazon reader
---
This book has you riveted from the start. You can't stop reading. This needs to be a movie.
★★★★★
Amazon reader
---
Very well written, the story unfolds in ways you can't predict.
★★★★★
Amazon reader
---
This series grabs you right from the beginning and doesn't let go!
★★★★★
Amazon reader
---

Copyright 2017-2019, Steve Morris, Landmark Media